Rent Our Space
Looking for a place to hold your Anniversary, Birthday, Celebration, Bris, Bar/Bat Mitzvah, Wedding, Auf Ruf, Sheva Brachot, fundraising dinner or any other celebratory occasion?
Our landmark building offers several unique venues for weddings, concerts, Bar/Bat Mitzvahs, classes, meetings and other events.
Please contact our Events coordinator at office@tribecasynagogue.org to start setting up your event today!

Click here for our terms and conditions
Social Hall
Our social hall is a 245-person capacity, 3,000 sq foot multi-purpose room. It has a brand-new hard wood floor and an open architecture for flexible layouts. A commercial kitchen is adjacent on the same level. The social hall hosts our weekly Kiddush and is used often for young children's birthday parties as is. The social hall converts easily into a gala location for Bar Mitzvahs, weddings and dinners. In addition to special events, our social hall has been used for regular classes such as the Super Soccer Stars, Super Duper Tennis, and JCP and 92Y Downtown programming. The space has also been rented by movie and television crews for holding space during filming.
Events that have been held here: Weddings, Bar/Bat Mitzvahs, Brises/Baby Namings, office parties, professional association parties, birthday parties, classes and more.
Organizations that have rented the space: CBS, Warner Brothers, Jewish Lawyers' Guild, New York County District Attorney's Office, 92Y, JCP, Super Soccer Stars, Super Duper Tennis.
Plaza
Our covered plaza provides a large area for a cocktail party, birthday party, or class, rain or shine.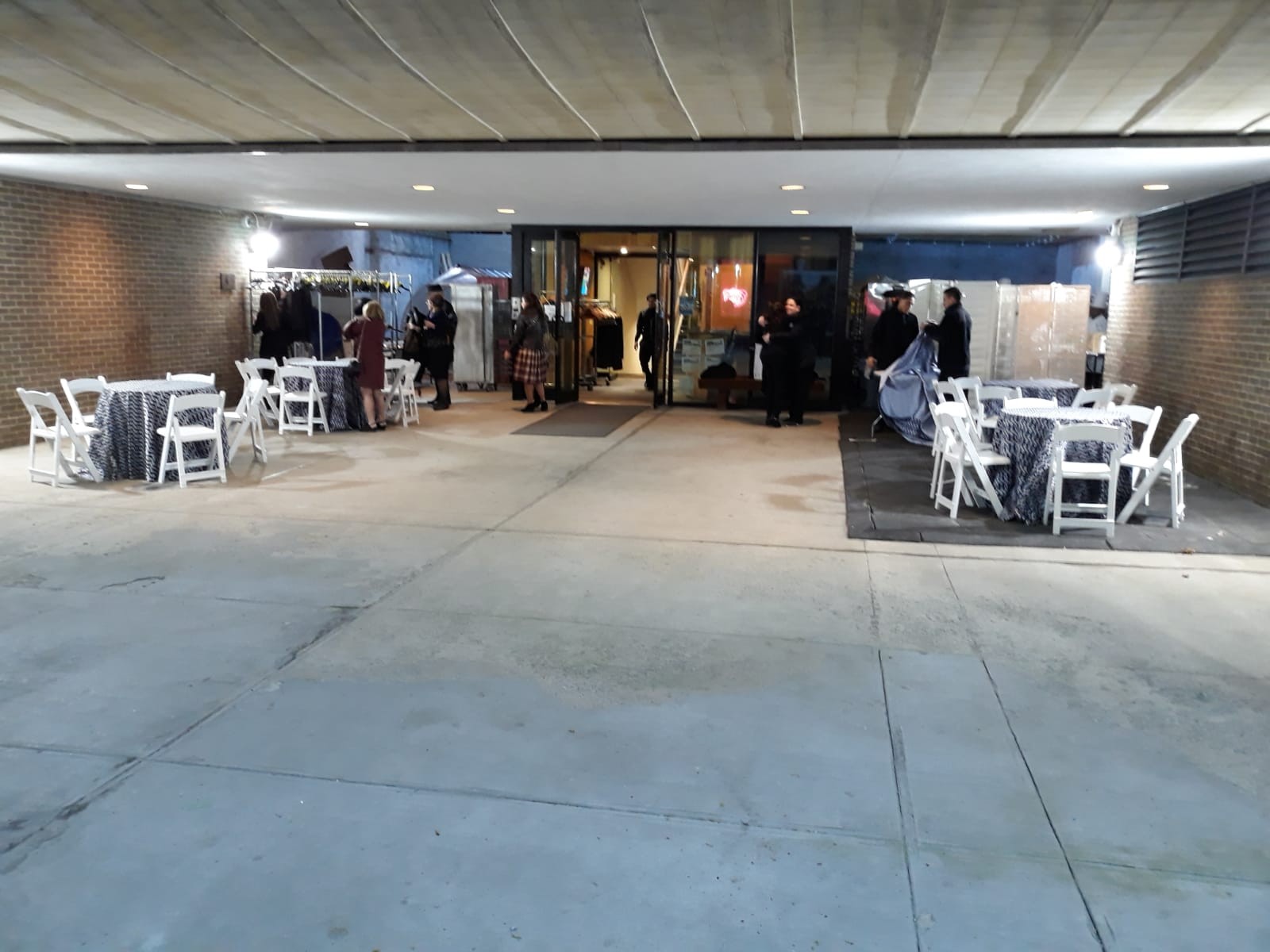 Sanctuary
Our sanctuary is one-of-a-kind, and is a truly remarkable setting for weddings, other family events, and professional events. In addition to our regular and holiday services, the sanctuary hosts events, speakers, and concerts (the acoustics are excellent).
Classrooms
We have three classrooms that can be rented when Hebrew School is not in session.
Kitchen
Our well-equipped kosher kitchen is located on the same level as our social hall. It is available to caterers (caterers must be kosher and approved by the Rabbi). For those who require assistance with setting-up, Synagogue staff can be hired to provide support
Rates
Please contact us directly for pricing information.
If you would like to book a rental TriBeCa Synagogue please contact the Office at (212) 966-7141 or info@tribecasynagogue.org.
Wed, November 30 2022 6 Kislev 5783